ALZ-801 for 2 years seen to sustain cognition in early Alzheimer's
No safety issues seen in Phase 2 trial of Alzheon's oral therapy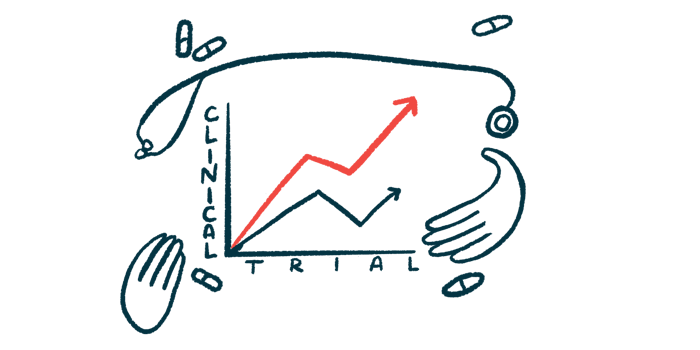 Treatment for two years with oral ALZ-801 (valiltramiprosate) sustained cognition and lowered levels of disease-related biomarkers in people with early Alzheimer's disease carrying one or two copies of the disease-linked APOE4 genetic variant.
These are the top-line findings of an ongoing Phase 2 clinical trial (NCT04693520), whose two-year data also showed that Alzheon's experimental therapy preserved the hippocampus, a brain structure important for memory that is damaged first in Alzheimer's.
Importantly, ALZ-801's safety profile over two years continued to show no increased risk of brain swelling and bleeds, which have been seen with anti-amyloid antibody-based therapies.
"ALZ-801 tablet is well positioned to become the first oral disease-modifying [Alzheimer's disease] treatment approved for slowing and even halting cognitive decline, and we are very encouraged by these results and the potential for a life-changing impact on the lives of Alzheimer's patients and their families," Susan Abushakra, MD, Alzheon's chief medical officer, said in a company press release.
The company now is seeking to validate these positive results in the Phase 3 APOLLOE4 trial (NCT04770220), which enrolled 325 early Alzheimer's patients, each with two APOE4 copies (called homozygous). Top-line data are expected late in 2024.
ALZ-801 aims to work as a preventive therapy in early Alzheimer's
Alzheimer's is marked by the presence of beta-amyloid plaques and tau tangles, which are clumps of two proteins that build up to toxic levels inside brain nerve cells. People with at least one copy of the APOE4 variant — the strongest genetic risk factor for Alzheimer's — tend to have a higher buildup of toxic amyloid-beta in the brain.
While approved anti-amyloid antibody-based therapies are designed to break down beta-amyloid plaques that have already formed, ALZ-801 works by preventing the formation of amyloid oligomers, the toxic amyloid species that eventually form plaques.
The Phase 2 trial was designed to evaluate the two-year safety and efficacy of daily ALZ-801 in 84 adults with early Alzheimer's who had either one or two copies of APOE4. Eligible participants also tested positive for amyloid and tau biomarkers in cerebrospinal fluid (CSF), the liquid surrounding the brain and spinal cord.
A total of 75 participants completed one year of treatment, and 70 of them continued treatment for another year; 68 of these patients provided blood samples for analyses.
Data showed that blood levels of p-tau 181, a key biomarker of neurodegeneration, were significantly reduced both at one year — by 43% — and at two years, which was a drop of 31%.
"Upon analysis of the plasma p-tau181 data in our laboratory, we have observed a sustained reduction in this leading biomarker of Alzheimer's [disease] in patients taking ALZ-801 tablet for 24 months," said Kaj Blennow, MD, PhD, at the University of Gothenburg, in Sweden, whose lab developed and performed the p-tau181 test.
Added Blennow: "This suggests a downstream effect on neuronal function and supports the potential for clinical efficacy of this novel treatment."
Levels of the toxic amyloid-beta42 form dropped steadily during the treatment period, reaching a statistically significant 4% reduction from the trial's start by the two-year mark. Another form of amyloid-beta, called amyloid-beta40, also decreased until one year, then stabilized by two years.
Moreover, patients treated with ALZ-801 showed a significantly lower decline in hippocampus volume both at one year and two years — by 28% at this later point — when compared with an external group of untreated Alzheimer's patients.
No signs of brain swelling among patients in trial
Cognitive function, as assessed with the Rey Auditory Verbal Learning Test (RAVLT) and the Digit Symbol Substitution Test, was consistently improved after six months of treatment and remained stable and above levels at study's start through two years.
The researchers noted that patients given ALZ-801 showed a 24% significant improvement in the RAVLT total score, which measures effects on immediate and delayed recall tests, relative to the external untreated group.
"To put these effects into context, trials with currently approved anti-amyloid antibodies showed a 24-32% reduction in cognitive decline over 1.5 years, while patients treated with ALZ-801 demonstrated cognitive gain from [study's start] and maintained their cognitive skills through and beyond same time period," said John Hey, PhD, Alzheon's chief scientific officer.
Scores from all cognitive assessments significantly correlated with the preservation of the hippocampus volume as well as the thickness of the cerebral cortex, the outer layer of the brain also affected by Alzheimer's.
"The significant effect on plasma p-tau181, combined with hippocampus volume preservation and clinical stabilization after 24 months of treatment, supports the disease modifying action of ALZ-801 in patients with Alzheimer's disease," Abushakra said.
Consistent with previous reports from more than 2,800 Alzheimer's patients, ALZ-801 demonstrated a favorable safety profile in the Phase 2 trial, with commonly reported adverse events including mild nausea, decreased appetite, and COVID-19.
To put these effects into context, trials with currently approved anti-amyloid antibodies showed a 24-32% reduction in cognitive decline over 1.5 years, while patients treated with ALZ-801 demonstrated cognitive gain from [study's start] and maintained their cognitive skills through and beyond same time period.
Importantly, there were no signs of brain swelling, referred to as vasogenic brain edema, or amyloid-related imaging abnormalities (ARIA).
ARIAs are a group of potentially serious side effects, including brain bleeds and brain swelling, associated with anti-amyloid antibody-based therapies. People carrying APOE4 are at a higher risk of these abnormalities.
"These efficacy data combined with a favorable safety profile with no events of vasogenic edema underscore the differentiated clinical profile of ALZ-801 oral tablet," said Martin Tolar, MD, PhD, Alzheon's founder, president and CEO.
Abushakra also said the results were promising.
"We have developed a differentiated agent in terms of its mechanism of action, which acts upstream on the same pathway as the currently approved anti-amyloid antibodies and that translates to promising and meaningful efficacy, as well as decrease in brain [shrinkage], easy oral administration and a favorable safety profile that obviates the need for frequent monitoring for brain [swelling and microbleeds]," Abushakra said.
Patients completing the two-year treatment period could chose to enroll in the trial's long-term extension portion, in which all are receiving ALZ-801 for another year, for a total of three years of treatment.