Alzheimer's Disease Research, Ellison Foundation to Invest $6 Million in UW Medicine Precision Medicine Approach
Currently incurable, Alzheimer's disease (AD) is projected by the Centers for Disease Control to afflict some 13.8 million people in the U.S. by 2050 if effective new treatments are not discovered. Already, millions of U.S. residents are living with severe, disabling, and progressively degenerative Alzheimer's-related dementia.
A new $6 million investment by the Ellison Foundation will enable the University of Washington Department of Medicine's Alzheimer's Disease Research Center (ADRC) to launch a unique new project that it says could revolutionize Alzheimer's patient care.
The primary research focus of the ARDC, which celebrates its 30th anniversary in 2015, is on investigating development of basic mechanisms underlying Alzheimer's disease and related disorders, with particular attention to biomarkers and experimental new treatments. The Center is also continuing research on genetic risk factors associated with Alzheimer's disease, with its main priorities being to find causes, effective treatments, and prevention strategies, with its investigators also partnered with other Alzheimer's centers nationwide in evaluating promising new medications and other AD treatments.
The Ellison Foundation, headquartered in Bellevue, Wash., was established in 2003 by Tom and Sue Ellison for the purpose of partnering with innovative nonprofit organizations in medicine, education and human services. "We have Alzheimer's in our family, so the issue is quite personal," says Sue Ellison in a UW release. "But it's also a huge public health issue, and we need to make progress on it. Tom and I hope that UW Medicine can really help move the field forward."
UW Medicine notes that no other ADRC combines the three elements UW Medicine brings to the table for moving the field forward: research expertise in Alzheimer's genetics, expertise in the disease biomarkers, and a precision-medicine clinical trial approach.
Heralded as the next wave in medical care, precision medicine first assesses patients both genetically and in other contexts in order to determine which treatment alternatives will best address the individual's particular condition — an approach that can be particularly useful when applied to in complex disorders like Alzheimer's disease.
"Alzheimer's is driven by genetics, but it isn't just one disease," explains Thomas J. Montine, M.D., Ph.D., the Alvord Endowed Chair in Neuropathology and Chair of the Department of Pathology and Professor of Pathology and Adjunct Professor of Neurological Surgery at the University of Washington, as well as an Adjunct Professor of Neurology at Oregon Health & Science University. "It's a disease that has many different subtypes, and one treatment won't work for everyone. Instead, the goal is to create multiple treatments — and see which ones work best for each patient."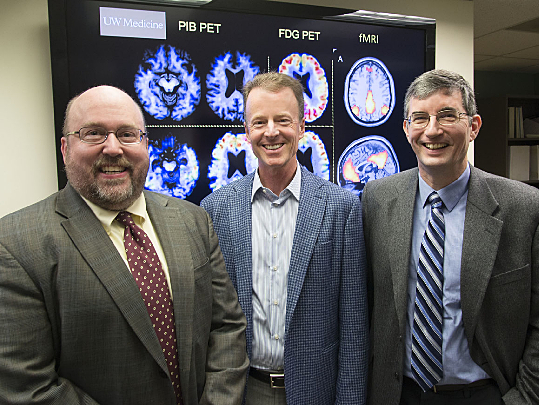 The Ellison Foundation's gift will enable UW Medicine researchers to take important steps toward using precision medicine to treat Alzheimer's disease through enhanced understanding of genetic and and other factors underlying Alzheimer's, creating or discovering drug therapies, and better understanding of how different patients respond to various treatments.
Dr. Thomas Grabowski, a UW professor of radiology and joint professor of neurology at UW and an expert in diagnosis and treatment of conditions affecting memory, language and cognition, is director of the UW Medicine Memory and Brain Wellness Center and also directs the UW Integrated Brain Imaging Center. Dr. Graowski affirms belief in "a collaborative approach to the care of patients with memory problems. We ensure that each patient receives customized care, education and ongoing support. We are working to advance the day when threats to memory and brain health are recognized and prevented as standard of care."
"We invested in this research because UW Medicine is uniquely equipped to succeed at it," explains Tom Ellison of the Ellison Foundation. "Dr. Montine and his colleagues have done amazing work in Alzheimer's, and their knowledge base will be key in creating the first part of the drug discovery pipeline."
"Drug discovery pipeline" refers to the years-long process of medical science, laboratory research, testing of potential drugs, and obtaining FDA approval, leading ultimately to a prescription at the physician's office. The Ellison Foundation's gift which will fund $6 million out of a $20 million project will further UW Medicine's intent to improve the drug pipeline by:
1) Using exome sequencing — a focused type of genomic sequencing — to identify Alzheimer's risk. UW Medicine's Alzheimer's Disease Research Center will use exome sequencing to test patients' genes in order to help determine an individual's risk of acquiring the disease.
2) Testing more drugs, faster — UW researchers will use patient-derived stem cells to test potential Alzheimer's-defeating drugs at UW Medicine's Quellos High-throughput Screening Core facility that allows fast and efficient testing.
3) Recruiting a leader. UW Medicine intends to recruit a senior scientist to hed up the clinical trials team that will test drugs in human volunteers.
4) Finding Alzheimer's earlier. The Ellison Foundation's gift also will help test an imaging tool called fMRI's efficacy in detecting physiological changes in the brain that potentially may be indications of imminent Alzheimer's onset before dementia symptoms manifest.
"The Ellison Foundation's gift is giving us a wonderful start — they're funding this first, essential phase of our project," says Paul G. Ramsey, M.D., CEO of UW Medicine. "When we know more about the genetics behind Alzheimer's disease, and more about the drugs that may work on our patients, we'll be able to move on to our second phase: drug testing in clinical trials. And the impact will be global."
Sources:
UW Medicine Alzheimer's Disease Research Center (ADRC)
Centers for Disease Control
Ellison Foundation
Image Credits:
UW Medicine