New US Semipostal Stamp to Fund Alzheimer's Disease Research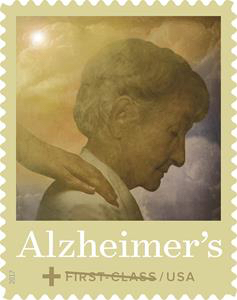 U.S. Postmaster General Megan J. Brennan has dedicated a new semipostal stamp to fund research to find a cure for Alzheimer's disease.
Under the Semipostal Authorization Act, five semipostal fundraising stamps will be issued over the next 10 years, with each one to be sold for no more than two years. The Alzheimer's stamp is the first in the series; it'll be followed by a post-traumatic stress disorder (PTSD) stamp, to be issued in 2019. Themes for the remaining three stamps have not yet been announced.
"The Postal Service is proud to issue this stamp today to help raise public awareness of Alzheimer's," Brennan said in a Nov. 30 press release. "Proceeds from its sale will help support urgently needed medical research into this incredibly debilitating disease."
The stamp depicts an illustration that first appeared on the 2008 Alzheimer's Awareness stamp. That 42-cent issue shows an older woman in profile with a hand on her shoulder, suggesting sunlight behind her and clouds in front of and below her figure.
This commemorative shows the woman facing right, to help differentiate between the two stamps (in 2008, the woman was facing left). Matt Mahurin of Topanga Canyon, California, is the artist behind the illustration.
The U.S. Postal Service (USPS) initiative includes a hashtag to share the news on social media, #AlzheimersStamp, and the price of the new stamp includes the first-class, single-piece postage rate in effect at the time of purchase. An additional amount funds Alzheimer's research.
Sales of the new stamp — minus the postage paid and the reimbursement of reasonable costs incurred by USPS — will be distributed to the National Institutes of Health (NIH).
Brennan marked the new stamp with a first-day-of-issue ceremony at Johns Hopkins Bayview Medical Center in Baltimore, Maryland. She was joined by Dr. Marie A. Bernard, deputy director of the NIH's National Institute on Aging (NIA), and by Dr. Richard Bennett, president of Johns Hopkins Bayview Medical Center. The director of the center's Memory and Alzheimer's Treatment Center, Dr. Constantine Lyketsos, served as master of ceremonies.
"NIA is working to identify new genes that affect Alzheimer's disease and their role as risk factors or protective factors, to explore imaging techniques and ways to detect development of the disease well before symptoms appear, to develop and test new therapies, and to test and implement new approaches to providing care and supporting caregivers," said Bernard. "The new semipostal stamp will both raise awareness of Alzheimer's research and care, as well as contribute to the search for effective ways to prevent and treat this heart-breaking disease."
He added: "Proceeds from the sale of this beautiful stamp will benefit the next generation of research at the National Institutes of Health. We hope this research will lead to new answers for our patients and their families who live with the everyday realities of Alzheimer's disease."