Corplex Donepezil Skin Patch Therapy Moves to Phase 1 Trial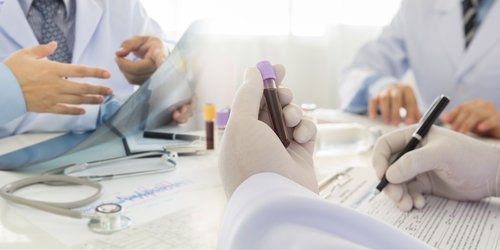 A once-weekly transdermal patch delivers the most commonly prescribed treatment for Alzheimer's disease in a way that is biologically equivalent to taking the medication orally, according to preliminary pilot study results. Corium International conducted the bioequivalence (BE) pilot study on its lead product, Corplex, which delivers donepezil — the same active ingredient found in the orally administrated Aricept (donepezil hydrochloride) — through skin absorption.
Corium's Corplex system was designed to enable efficient delivery across the skin (transdermal) of small therapeutic molecules. These transdermal patches can adhere to either wet or dry surfaces for an extended period of time. Because Corplex Donepezil uses the same active ingredient found in Aricept, Corium International is pursuing the U.S. Food and Drug Administration's bioequivalence-based development and regulatory pathway (Section 505(b)(2) New Drug Application). This FDA process takes into consideration previous safety and efficacy results of an already approved drug in deciding whether to approve a new treatment.
To confirm this new therapy could deliver the therapeutic active compound as efficiently as Aricept, the company conducted a BE pilot study where they tested two Corplex Donepezil transdermal patches that differed only in size. Patients treated with Corplex Donepezil presented similar concentrations of the drug in their blood as those reported in patients treated with Aricept. The smaller patch formulation achieved the FDA's established endpoint.
With no significant skin safety or gastrointestinal side effects reported, the results indicated that Corplex Donepezil has a similar safety and drug delivery profile to Aricept. Notably, the incidence of nausea in patients treated with the smaller patch was more than four times lower than that reported for Aricept.
"We are extremely pleased that our Corplex Donepezil patches performed as well as we had projected, and that one of the tested patches actually met the regulatory bioequivalence criteria at the pilot stage," Parminder Singh, PhD, chief technology officer and vice president of Research and Development at Corium, said in a press release.
"Based on these results, we can now move forward knowing that we have a product candidate that can meet the bioequivalence-based registration criteria," he said.
Corium expects to start its pivotal Phase 1 clinical trial (NCT02968719) later this year, with the objective to file the New Drug Application (NDA) for Corplex Donepezil in 2018. The study is currently recruiting participants.
"I am encouraged by the rapid clinical development of Corium's once-weekly transdermal donepezil product," Pierre N. Tariot, MD, director of the Banner Alzheimer's Institute in Phoenix, Arizona, and clinical advisor to Corium, said in the release. "Given the inherent challenges we face treating persons with Alzheimer's, as well as limitations of currently available medications, I am hopeful that the transdermal approach can afford improved compliance and potential clinical benefits that could truly matter to both our patients and their families."