Congressman Fattah Plans International Agenda for Dementia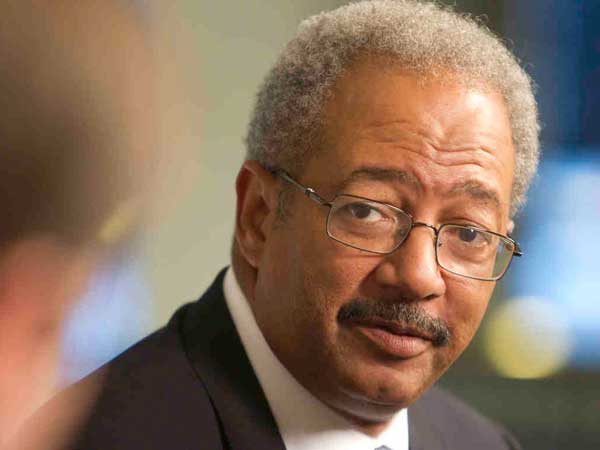 Pennsylvania-based Representative Chaka Fattah — a U.S. Congressman behind the Fattah Neuroscience Initiative, which aims to drive collaborative Federal research on brain cognition, development, disease and injury — recently had a meeting with World Dementia Envoy and head of the World Dementia Council, Dr. Dennis Gillings, to discuss and plan their next steps to get closer to finding new and better pharmaceutical treatments for dementia, such as Alzheimer's Disease.
Dr. Gillings was appointed envoy earlier this year in February, shortly after last year's G8 Dementia Summit, which concluded with participating countries pledging to find a cure or disease-modifying treatment for the condition by the year 2025. He and Congressman Fattah were joined by two other noted names in dementia research and development: Jon Rouse, the Director General for Social Care at the UK Department of Health, and George Vradenburg, the co-founder of USAgainst Alzheimer's.
The representatives agreed that one of the next steps to accomplish the set of international goals is to create an internationally pooled and accessible data bank for dementia research and trials, which Dr. Gillings and Rouse both believe is a collaborative resource with "tremendous" benefits. Another proposal brought forward during the meeting was the need for an international parliamentary group to oversee and bolster political efforts for dementia.
[adrotate group="3″]
Dr. Gillings emphasized during the meeting that international efforts to find a solution for dementia cannot wait another 3-4 decades. If significant progress is not made within the next 10 years, countries all over the world may experience a cumulative economic loss to the disease worth $20 trillion.
Additionally, Congressman Fattah laid out his plans to establish a Global Alzheimer's Fund, to be patterned after the largely successful Global Aids Fund. He explains that the worldwide prevalence of dementia is beyond any single country's capacity to solve, and that to save millions of lives around the world from this disease, there must be a unified international commitment to making neuroscience a priority.
In other news on partnerships working on dementia research and development, AstraZeneca and Eli Lilly and Company will be collaborating on the development and commercialization of the oral beta secretes cleaving enzyme (BACE) inhibitor, AZD3293, a potential treatment for Alzheimer's as it has shown the ability to inhibit amyloid plaque formation.