Lecanemab Slows Dementia of Early Alzheimer's in Phase 3 Trial
Wider requests for approval based on Clarity AD study findings planned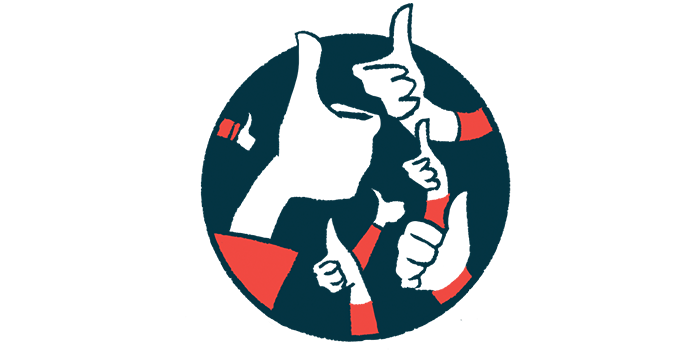 Treatment with lecanemab (BAN2401), an experimental amyloid-targeting antibody, significantly slowed the progression of dementia symptoms among people with early Alzheimer's disease in the Phase 3 Clarity AD clinical trial, Biogen and Eisai announced.
Both companies, the therapy's developers, plan to discuss these results with regulatory authorities in the U.S., Europe, and Japan, with the aim of applying for traditional approval of lecanemab in all three countries by late March 2023. Lecanemab is currently being considered for accelerated approval in the U.S., with a decision expected in early January.
"Today's announcement gives patients and their families hope that lecanemab, if approved, can potentially slow the progression of Alzheimer's disease, and provide a clinically meaningful impact on cognition and function," Michel Vounatsos, CEO of Biogen, said in a company press release.
"We want to thank the many patients who participated in this groundbreaking global study and want to acknowledge the clinical investigators who worked tirelessly to increase the enrollment of traditionally underrepresented populations," Vounatsos added.
Groups praise lecanemab's potential seen in Clarity AD trial
The results were met with enthusiasm by the Alzheimer's community.
"These are the most encouraging results in clinical trials treating the underlying causes of Alzheimer's to date," the Alzheimer's Association noted in a statement.
"As we celebrate today's news, decades of research and expertise allow us to clearly see the path forward to a world where Alzheimer's is a treatable, and even curable, disease," Howard Fillit, MD, co-founder and chief science officer at the nonprofit Alzheimer's Drug Discovery Foundation, said in a foundation statement emailed to Alzheimer's News Today.
Virtually all cases of Alzheimer's are characterized by amyloid-beta plaques in the brain — clumps of protein that are toxic to brain cells and are thought to drive the disease. Lecanemab is designed to target early amyloid plaques called protofibrils, thus clearing these plaques.
Eisai's application for accelerated approval in the U.S. is based on earlier clinical trial data showing lecanemab can reduce plaques. Accelerated approval is a process by which the U.S. Food and Drug Administration (FDA) can grant conditional marketing authorization based on early clinical data that suggests a therapy is likely to be effective. Findings need to be confirmed in a subsequent trial.
The Phase 3 Clarity AD clinical trial (NCT03887455) enrolled 1,795 people in the early stages of Alzheimer's; specifically, those with mild cognitive impairment due to the disease or mild Alzheimer's dementia. According to Eisai, about 25% of trial participants in the U.S. were Hispanic and African American, which is "is generally comparable to the country's Medicare population."
Trial participants were randomly assigned to receive lecanemab at 10 mg/kg or a placebo, administered via infusion into the bloodstream every other week.
The study's main goal was to determine the effect of treatment on the Clinical Dementia Rating-Sum of Boxes (CDR-SB), a measure of dementia symptom severity that is scored by a clinician based on interviews with the patient and their family/caregivers. The CDR-SB assesses dementia symptoms across six domains: memory, orientation, judgment and problem solving, community affairs, home and hobbies, and personal care.
Dementia progression slows significantly in patients on lecanemab
Top-line trial results showed that Clarity AD met it's goal: after 18 months, the rate of worsening on CDR-SB was significantly slower, by 27%, for patients on lecanemab than placebo.
The trial also met key secondary goals, with lecanemab outperforming placebo at reducing plaque levels and on other measures of disease severity, namely the Alzheimer's Disease Assessment Scale-cognitive subscale14 (ADAS-cog14), Alzheimer's Disease Composite Score (ADCOMS) and the Alzheimer's Disease Cooperative Study-Activities of Daily Living Scale for Mild Cognitive Impairment (ADCS MCI-ADL), the companies reported.
"Importantly, the study shows that removal of aggregated amyloid beta in the brain is associated with a slowing of disease in patients at the early stage of the disease," Vounatsos said.
"The lecanemab Clarity AD study results prove the amyloid hypothesis, in which the abnormal accumulation of [amyloid-beta] in the brain is one of the main causes of Alzheimer's disease, when targeted with a protofibril-binding therapy," added Haruo Naito, Eisai's CEO.
Fillit noted that, while the effect seen in the trial "is encouraging news for the 57 million patients around the world living with Alzheimer's," lecanemab and other amyloid-targeting therapies "will provide an incremental benefit at best and there is still a pressing need for the next generation of drugs focused on other targets based on our knowledge of the biology of aging."
He also expressed optimism "about the future as many of these drugs are in development, with 75% of drugs in the pipeline now targeting non amyloid pathways of neurodegeneration."
Amyloid-targeting therapies like lecanemab are known to cause amyloid-related imaging abnormalities (ARIA), referring to swelling/edema (ARIA-E) or bleeding/hemorrhage (ARIA-H) in the brain. These imaging abnormalities do not always cause noticeable symptoms, though they can be serious in rare cases.
In Clarity AD, the rate of ARIA-E was 12.5% in the lecanemab group and 1.7% in the placebo group. No patients in the placebo group had ARIA-E with symptoms, compared with 2.8% of the lecanemab group. For ARIA-H, the overall rates were 17% with lecanemab and 8.7% with placebo, with symptomatic rates of 0.7% and 0.2%, respectively.
The overall rate of any ARIA event was 21.3% with lecanemab and 9.3% with placebo, which is "within expectations," according to the therapy's developers.
Clarity AD findings will be presented at the Clinical Trials on Alzheimer's Congress set to open in San Francisco in November, and they will be published in a peer-reviewed journal, the companies announced.