Simufilam aids cognition in 47% of Alzheimer's patients in Phase 2 study
Top-line findings at one year of daily treatment in mild-to-moderate disease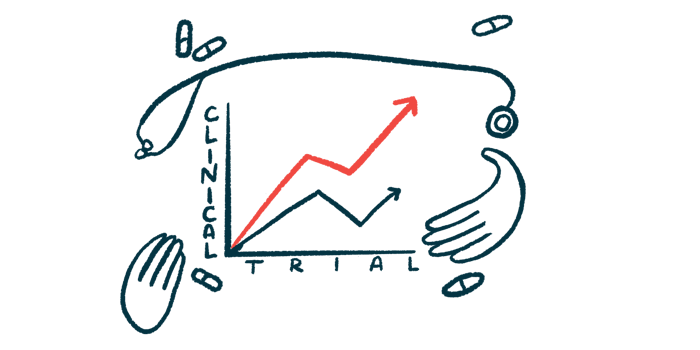 Cognitive benefits were reported in nearly half of the Alzheimer's disease patients given simufilam for one year in a clinical trial, while those with early-stage, mild disease appeared to respond best to the experimental medication.
That's according to top-line data from the open-label Phase 2 study (NCT04388254) in 216 people with mild-to-moderate disease, treated with simufilam tablets at 100 mg twice daily for a year.
A minimal decline in cognitive ability was seen overall, evaluated using the Alzheimer's Disease Assessment Scale-Cognitive Subscale (ADAS-Cog-11). A minimal change in these scores is "a highly desirable outcome in a clinical study of mild-to-moderate Alzheimer's," Cassava Sciences, which is developing simufilam, reported in a company press release.
Two Phase 3 trials into simufilam's safety and efficacy enrolling
Treatment also eased depression and dementia-related behaviors in patients, two exploratory trial goals, and simufilam was found to be safe and well tolerated.
"I'm very excited about these 1-year data," said Remi Barbier, Cassava's president and CEO. "They add strength and determination to our goal of helping people fight Alzheimer's disease."
While final Phase 2 trial data are awaited, recruitment for two Phase 3 safety and efficacy studies of simufilam, dubbed RETHINK-ALZ (NCT04994483) and REFOCUS-ALZ (NCT05026177), is underway at dozens of sites across the U.S., Canada, Puerto Rico, Australia, and South Korea.
More than 950 people with mild-to-moderate Alzheimer's already are enrolled across the two placebo-controlled trials, which aim to recruit a total of 1,750 patients, the company announced in a separate press release. Contact and site information for RETHINK-ALZ and for the larger REFOCUS-ALZ trial are available.
"Simufilam is an innovative drug candidate that we are developing methodically, one study at a time," Barbier said, adding that the company expects to complete enrollment by year's end.
Formerly called PTI-125, simufilam is an oral small molecule designed to correct an altered form of a protein, called filamin A, to stop it from causing two other proteins — beta-amyloid and tau — to clump.
Beta-amyloid and tau clumps form the toxic deposits that kill nerve cells (neurons) in patients' brains, affecting their ability to think, remember, and learn.
The Phase 2 trial runs for two years, with treatment safety and tolerability being measured over that time. Enrolled patients are randomized to a full two years of simufilam at 100 mg twice daily, or to one open-label year of treatment followed by six months of a placebo tablet (months 12 to 18), before returning to the treatment for a final six months.
Improvements in cognitive scores with treatment seen in early-stage patients
Top-line results for ADAS-Cog-11 scores at one year showed 47% of all patients had a mean drop of 4.7 points from the study's start, a baseline measure. Overall, mean ADAS-Cog-11 scores changed from 19.1 to 19.6 points, the company announced.
ADAS-Cog-11 assesses cognition in people with mild-to-moderate Alzheimer's; lower scores reflect better cognitive ability.
Among people with mild Alzheimer's, treatment led to a mean drop or improvement in ADAS-Cog-11 scores, going from a mean of 15 to 12.6 points. In those with moderate disease, the one-year change showed a worsening in ADAS-Cog-11 scores, rising from 25.7 to 30.1 points.
"The improvement in ADAS-Cog over 1 year in mild patients taking simufilam is well outside the expected range of historic placebo decline rates from numerous other studies," said Suzanne Hendrix, PhD, who leads the company responsible for analyzing trial efficacy data.
A subset of 25 patients underwent lumbar punctures at the study's start and again after six months of treatment to test an exploratory but primary trial goal: changes in key disease biomarkers. Total tau levels in patients' cerebrospinal fluid (that surrounding the brain and spinal cord) fell by 38% and phosphorylated tau levels by 18% at month six. Similar drops were seen in markers of neurodegeneration and neuroinflammation, Cassava reported.
Among secondary trial goals at one year of treatment were changes in the Neuropsychiatric Inventory (NPI10) questionnaire, which evaluates dementia-related behaviors. Mean NPI10 scores dropped from 3.2 points at baseline to 2.9 points, indicating less severe or challenging behaviors.
The proportion of patients with an NPI10 score of zero, indicating a reduction in dementia-related symptoms, also increased from 42% to 54%, the company reported.
Similarly, mean Geriatric Depression Scale (GDS) scores dropped from 1.8 to 1.4 points at one year. GDS evaluates depression in older adults, with lower score indicating a lessening in depression severity.
No serious side effects were related to simufilam's use. Three adverse events considered related to treatment were infection by the virus causing COVID-19 (12% of study patients), urinary tract infection (10%), or headache (9%). Thirteen patients left the study due to treatment side effects, while 14 others withdrew consent and seven patients failed to comply with the study's protocol.
Top-line results of a cognitive maintenance study in more than 100 mild-to-moderate Alzheimer's patients randomized to simufilam or a placebo for six months are expected in 2023, Barbier said.
Alzheimer's is progressive, and disease symptoms worsen over time. In its early stages, memory lapses and confusion are common symptoms, and there are often signs of mood swings and cognitive decline.
In its middle stages, or moderate Alzheimer's, memory lapses are more marked and mood changes and cognitive decline more evident. People in this stage often have difficulty performing daily tasks.