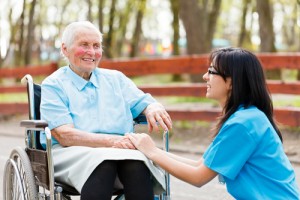 Avanir Pharmaceuticals Inc. reported today new, positive results for their leading drug, AVP-923, designed to treat agitation in Alzheimer's disease patients. The results will be presented at the American Neurological Association's (ANA) 2014 Annual Meeting in Baltimore, MD, October 12-14, 2014.
Joao Siffert, MD, chief medical officer at Avanir, said, "With no FDA-approved drugs for the treatment of agitation in Alzheimer's disease, we believe these results represent a breakthrough for patients. We are extremely excited with the prospect of bringing a potential treatment that can provide clinically meaningful relief to these patients and reduce caregiver burden. These study results represent the second neuropsychiatric disorder where AVP-923 has shown benefit and lends support for further advancement of our research programs into related disorders."
Alzheimer's patients often exhibit behavioral and psychiatric symptoms, which may include paranoia, wandering, hallucinations (seeing, hearing, or feeling things that are not there), restlessness, irritability, and confusion. As a result, Alzheimer's patients usually feel anxious or agitated.
Currently in America, 5.4 million people suffer from Alzheimer's disease. Without any cure, the drugs available can only temporally treat Alzheimer's patients' symptoms.
[adrotate group="3″]
Now, with positive results from a phase II clinical trial to evaluate the safety and efficacy of AVP-923 for the treatment of agitation in patients with Alzheimer's disease, Avanir Pharmaceuticals Inc. is hopeful that they may have a viable therapy for agitation in Alzheimer's disease on the horizon. During 10 weeks and with 220 patients, those treated with AVP-923 experienced a significant reduction in agitation scores compared to placebo. This was accompanied by improvements on secondary symptoms of Alzheimer's patients.
Jeffrey Cummings, MD, director of the Cleveland Clinic Lou Ruvo Center for Brain Health and chair of the study steering committee noted, "This is an exciting advancement in Alzheimer's disease research. Dementia-related neuropsychiatric symptoms such as agitation are extremely distressing to patients and their families."
Another member of the steering committee, Constantine Lyketsos, MD, director of the Johns Hopkins Memory and Alzheimer's Treatment Center commented, "A potential new treatment option that could alleviate agitation or aggression as a result of Alzheimer's disease would have a significant impact on the daily life of these patients and of their caregivers."
We are sorry that this post was not useful for you!
Let us improve this post!
Tell us how we can improve this post?